In product, much of our time involves understanding our customer needs, and becoming deeply intimate with their problems, so that we can build innovative and sustainable solutions. But what happens when your solution is no longer hitting the mark, and it's time to retire them? In June, Ana Rowe from Thoughtworks joined us to share some industry examples, as well as her own experiences and with sunsetting different products.
Why sunset your product?
Do we know what stage our product is in? Are we still in the growth stage? Have we started to decline? It's important to appreciate where our product sits within the product lifecycle, so that we can make the appropriate plans. However, as product people, we're often optimistic, which can sometimes cloud our judgement. We often don't recognise (or accept) where we are.
If we understand where we are in the Product Lifecycle, then it can make it easier to decide which way we go.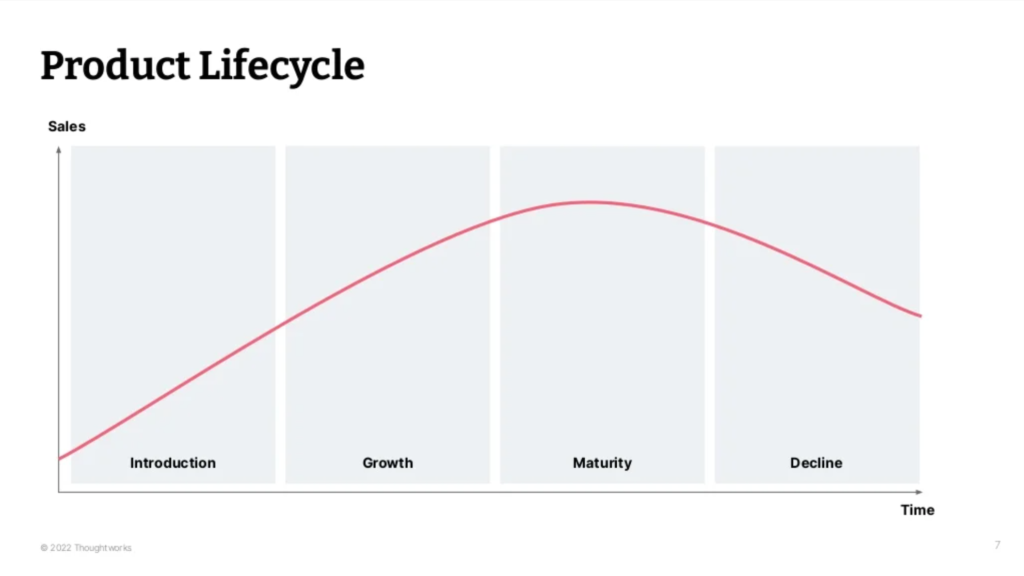 When to sunset your product?
There are many reasons why you may need to sunset your product, including:
Low performing products: When Netflix developed Netflix Friends, they set a 20% growth target as an indication of success. However, over what time period? Do you spend a month, a quarter, a year before you change direction?
Change in needs: Over time, both the environment and our customer's needs will evolve. What was once cutting edge may no longer be hitting the mark, or possibly superseded or incorporated into other solutions, like the Apple iPod. Is it still a problem (or the right problem) that needs to be solved?
Unsustainable: Is our product too expensive to maintain? Perhaps the margins are too small, or even negative, which we cannot support in the long term. Revolv customers were frustrated when they found themselves on the other end of this equation after Revolv was acquired by Nest (a Google/Alphabet company) and then subsequently shut down about 18 months later.
Diluting your core value prop: Home Ideas (REA) started out as an idea during an internal hackathon. Unfortunately, it always remained an idea, without a true owner, and never quite aligning to the company strategy.
Changes in strategic direction: When A Cloud Guru acquired Linux Academy, they decided to migrate their new customers and consolidate them onto their existing platform, which also meant stopping support and sunsetting the existing Linux Academy mobile app.
How to sunset your product
Once you've made the decision to decommission your product, what next?
Ana shared some of the challenges they experienced with Linux Academy. As an education and training platform, customers enrolled in courses to learn about a variety of topics, often in preparation for formal assessments or certifications, some of which were still part way through that process. Many had invested significant time on the platform, which also maintained their learning history. Furthermore, the Linux customers liked the platform they had joined and were using.
Some other questions that needed to be addressed:
How do the products compare?
Should both platforms be maintained?
Are the pricing strategies aligned?
So it was a difficult decision to migrate all these users to the core A Cloud Guru platform, and to eventually retire the existing Linux Academy mobile app.
However, migration plans can also take significant time to develop.
Meanwhile, this change in priorities meant no more development on the old app, therefore no more addressing bugs, which caused the app store rating to tank. This also created a flow on effect with support issues raised by customers.
Also, customers couldn't just sign up to A Cloud Guru. They needed to wait for their profile to be migrated to allow for the learning history to be transferred.
What were the key learnings?
Planned well… for the happy path;
Didn't take customers on our journey;
Communication was confusing and sometimes conflicting;
Lack of Tripwire metrics, to get early indication that things were not going as planned.
Slow to act.
If you find yourself needing to sunset a product in future, you may want to consider a Go From Market approach:
Analysis
Decide
Set milestones
Pre-sunset comms
Sunset
Support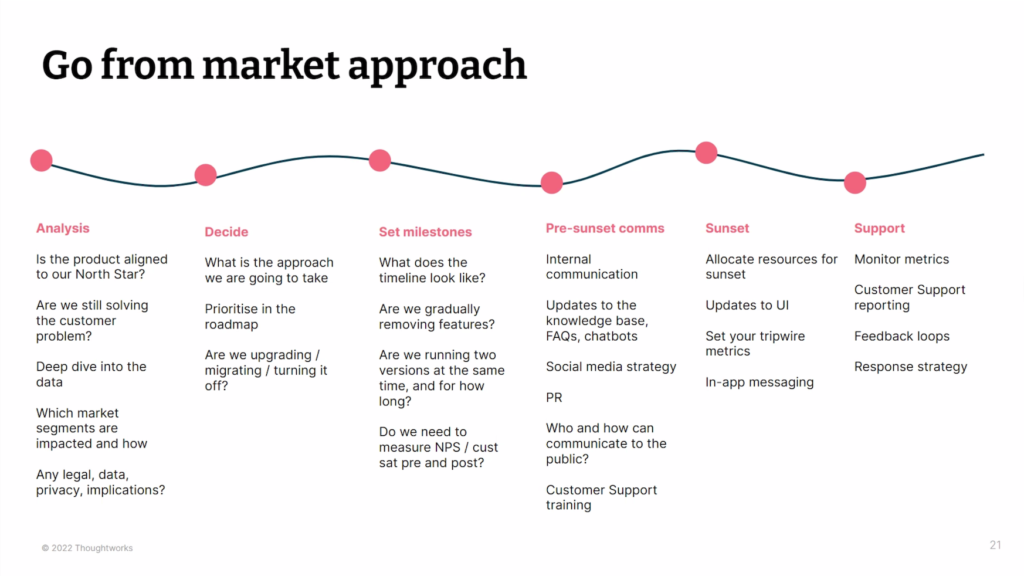 Thank you
Thank you to Ana Rowe for sharing; our volunteers (Nosh Darbari, Yau Hui Min, Steve Bauer) for helping on the night; to Kogan.com for hosting and to our zoom sponsor Pluralsight / A Cloud Guru.
Resources and Slides